London Tech Week 2023: Championing Purpose-Driven innovation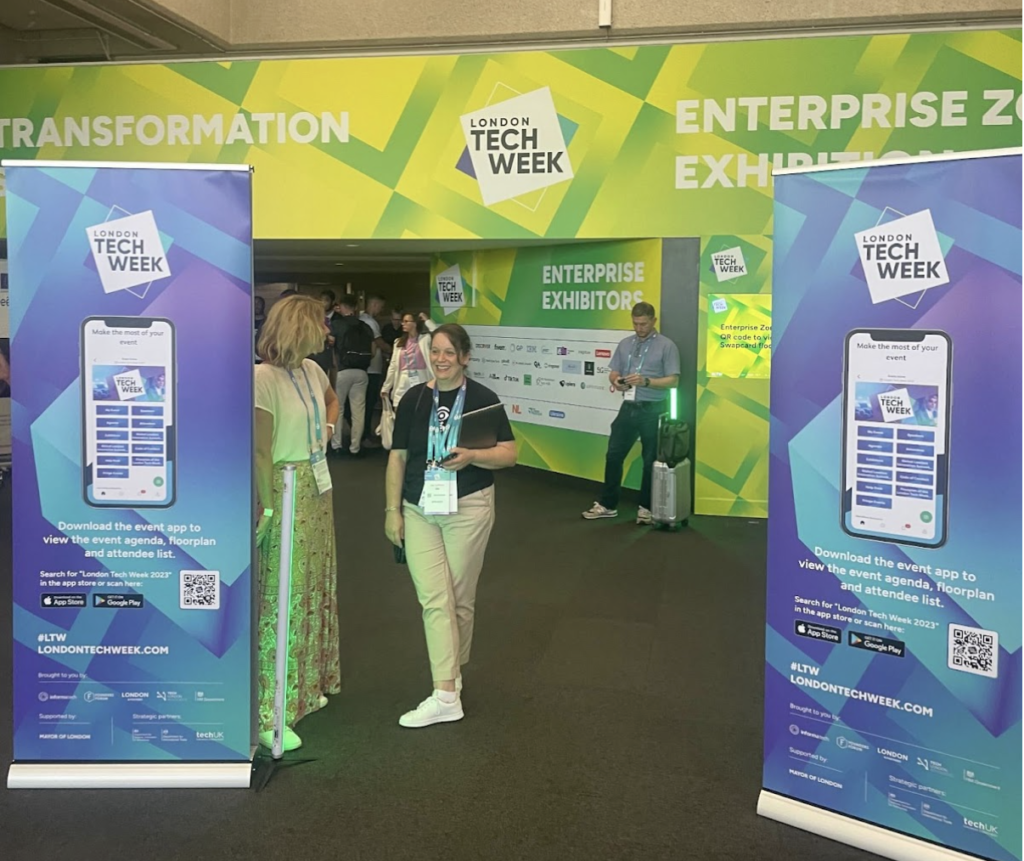 London Tech Week 2023 felt like the biggest to date, with huge crowds, oversubscribed registrations, and panels so popular that queues were snaking all around the multiple floors of the Queen Elizabeth II Centre.
With attendees keen to network, seek out business advice, and learn about the latest in innovative technologies, talks such as 'Championing Purpose-Driven Innovation' were essential for those looking to grow their companies with a clearer sense of direction.
Hosted by Ben Higgin, Head of Tech & Investments at PwC, and featuring panellists Mette Lykke, CEO of Too Good to Go, and Matthias Laug, Co-Founder of TIER Mobility, the session covered the importance of mindset and what needs to change to make significant steps forward, how we need to focus on people over technology, and valuable insights for those looking to make meaningful strides in innovation.

Changing mindsets for tangible impact
Host Higgin kicked things off by advising decision-makers to bring in people who understand purpose-driven innovation as ongoing change and growth, as opposed to a "project". He pointed out that businesses change as they grow, and cited a study that revealed 22% of UK CEOs think their business model won't exist in 10 years time. He said that the mindset of continual evolution also needs to be applied to innovation, moving past individual company innovation projects and instead embedding innovation and finding different ways to do things into the company culture.
Lykke challenged larger companies trying to work on this now, encouraging them to develop an impact framework, not only creating plans and ideas for innovation and purpose that are aligned to the business, but also highlighting areas where they may have the resources and capabilities to do more.

Laug was also quick to point out that cross-department collaboration on this was vital, wisely adding "If your entire purpose is driven by the marketing team, then you've failed."
A Human-first approach to tech innovation
Laug suggested that as purpose driven innovation revolves around solving a problem for a particular community, it makes sense to hire from that community. People with firsthand experience of problems are more likely to bring in their ideas and experiment, based on how they've been affected by it, and how they've thought about it before. He said companies need to understand the problem and the people facing it first, then think about what tech you can throw at it – not the other way around.
Higgin agreed, suggesting that companies should "be more human led and tech powered", reiterating the point that tech is built for, designed for, and used by people, so integrating communities into your business purpose is a must.

Laug advised to minimise hurdles in the first instance by ensuring contact and introductions are also human led as much as possible. Pointing out that humans learn best by asking questions, and that people often require context and not just instruction, he commented "Asking someone to have a conversation with something or someone as opposed to requiring a tech tutorial is game-changing". Technology and companies that can capture questions, information, and varying experiences or approaches to a problem will have a more holistic understanding and approach to devising impactful solutions.
Rooting innovation in understanding
Laug acknowledged that a focus on innovation in a company's growth stage can be difficult, so making the purpose tangible is important to ensure it sticks and doesn't become forgotten or deprioritized for profit.
Lykke concurred, and suggested having a 'North Star KPI that people will rally around' – and gave the example of at Too Good to Go, this KPI is simply 'meals saved'. Having this embedded KPI means people are likely to repeat it, remember what they're there for, and will also have a question or qualifying criteria to come back to for important company decisions, even when things change quickly within the business or industry. She also pointed out how assigning KPIs that measure both impact and revenue means you're more likely to align team members to your goal, despite whether they're more impact or profit driven.
Explaining further, she offered a useful business case: Part of having KPIs that factor in both impact and profit means not being afraid to shut things down, even those with a noble pursuit, if they just won't scale. If you want the impact, you need to be able to scale it, and if that isn't doable, then even if it's a good idea, it's better to part with it for now.
Lastly, on the subject of AI innovations in the workplace, both panellists gave hopeful answers, and suggested that for smaller, more agile companies, embracing AI software sooner rather than later will be important for their success. This could be a period that proves it's not always the larger companies that become the vastly influential ones in their field.
Also, it was stated that implementing AI into procedures and tasks, changing habits, and driving innovation, while remaining people-led, could optimise workflow and reduce the number of working hours needed, (as opposed to the number of team members) – a point of view many of us can get behind.